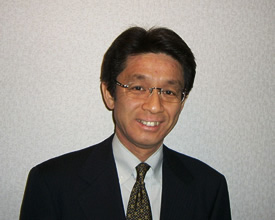 There is a phrase written in kanji gShikon-Shosaih that has been displayed in our company since long ago. gShikonh means the spirit of the samurai and gShosaih refers to the ability of a business. This is our philosophy, based on the spirit of honesty and reaching our full potential.
gWADAYAh (˜a) embodies the concept of harmony. HOSODA Co.fs aim in business is to ensure everybody concerned prospers and succeeds.
The world has been greatly transforming in the 21st century and business circumstances have also been changing rapidly. For this reason we have expanded our business interests to incorporate overseas markets.
We support small and mid-sized companies in exporting the highest quality goods to growing markets around the world.
We always promise to provide an excellent service, and would like to thank you for your continuing support.
HOSODA Co., Ltd.
President, C.E.O.
Koji Hosoda